The Macola IT Managers Toolbox is a set of Crystal Reports designed to halp manage your Macola users passwords, menu access, modified screens and provide insight into the Progression database. These tools are not available in Progression. The toolbox consists of the following:
● Macola Security Report (Crystal Report)
You have been asking for this for years and here it is. This report allows you to easily view what Macola menu options are accessible to each user. Our experiences have shown us that many times a user will have access to a program that is not authorized for them. This program will now allow you to pro-actively manage your Macola security. Below are some sample screenshots:
Security Report by User: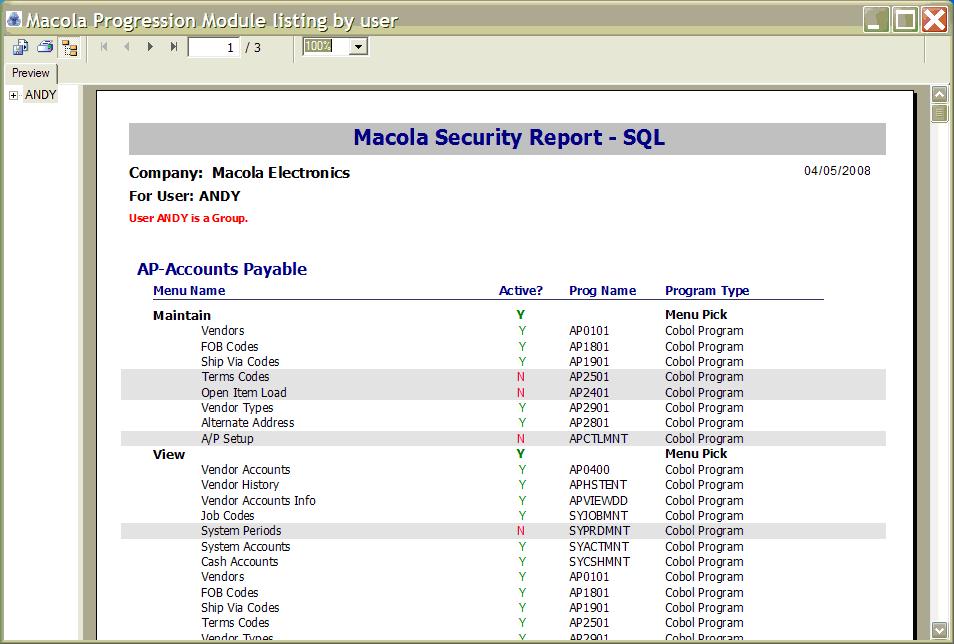 Security Report by Menu Option: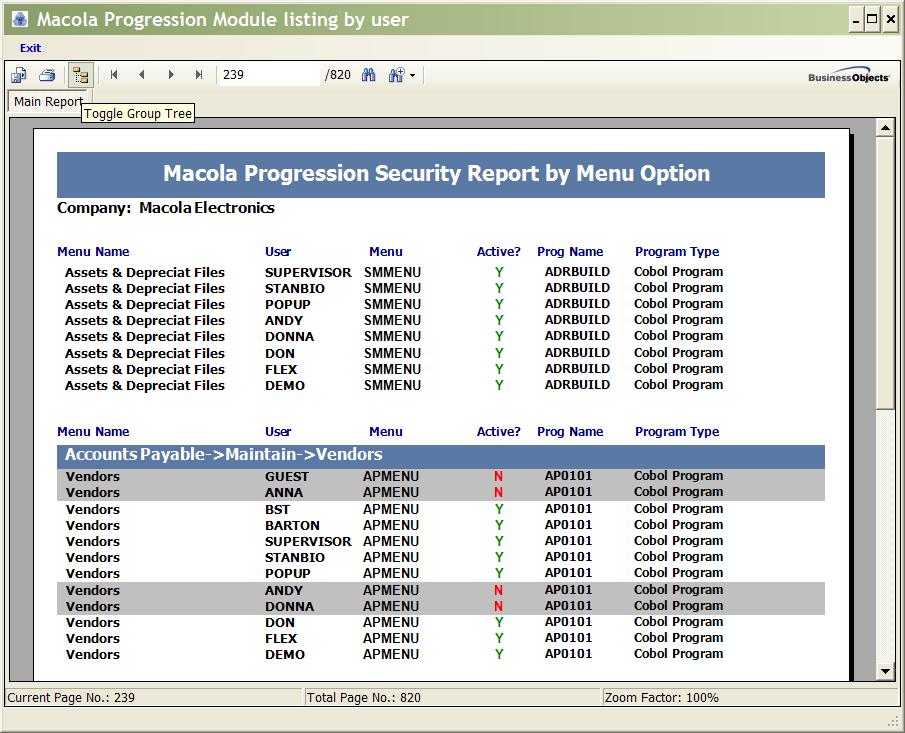 ● Modifed Screens Listing (Crystal Report)
This report allows you to pinpoint custom changes that have been made to any of the Macola screens. Our custom Crystal report shows you all screens that have been modified. This information is not provided on any of the standard Macola reports.

Also included with this report are a set of instructions to show you how to make a given modified screen the default screen for all users. This saves time copying modified screens as users change jobs or new users join your company.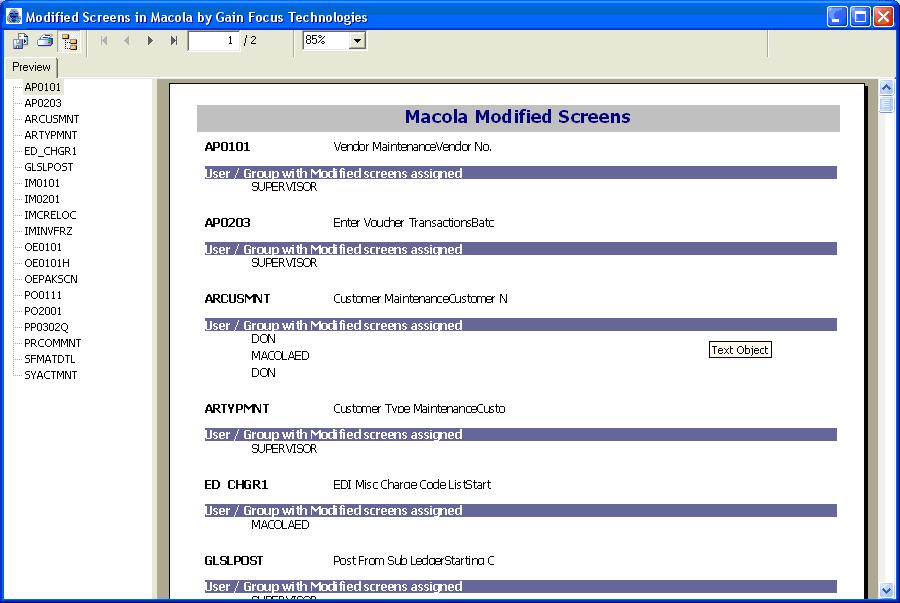 ● Find-A-Field Report (Crystal Report)
This report will prompt you to key in a field name. It then displays every table in Macola where this is used along with a record count, data type and position of the field, etc. This is a great developer's tool. See the sample below: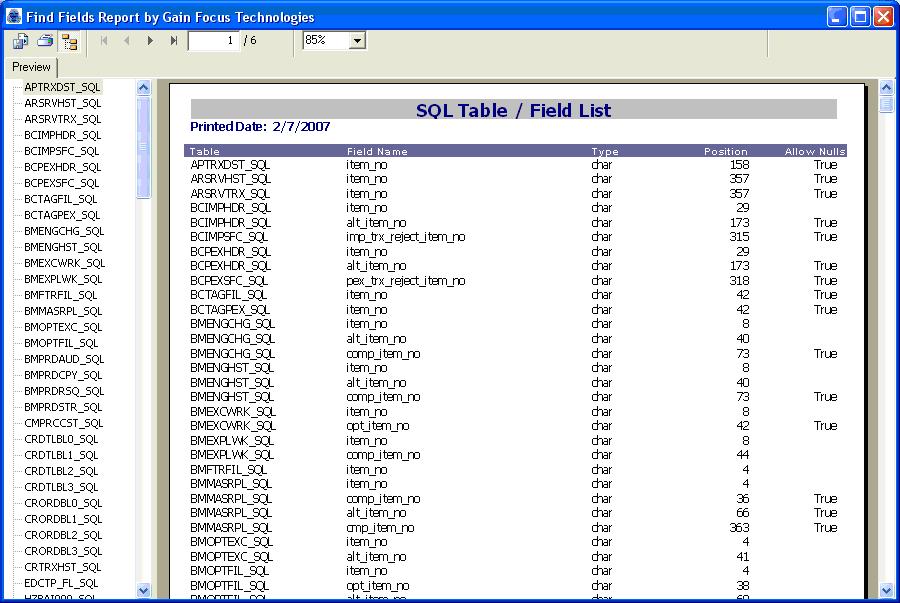 ● Macola Locks
A simple crystal report that shows whom is locking what tables in Macola: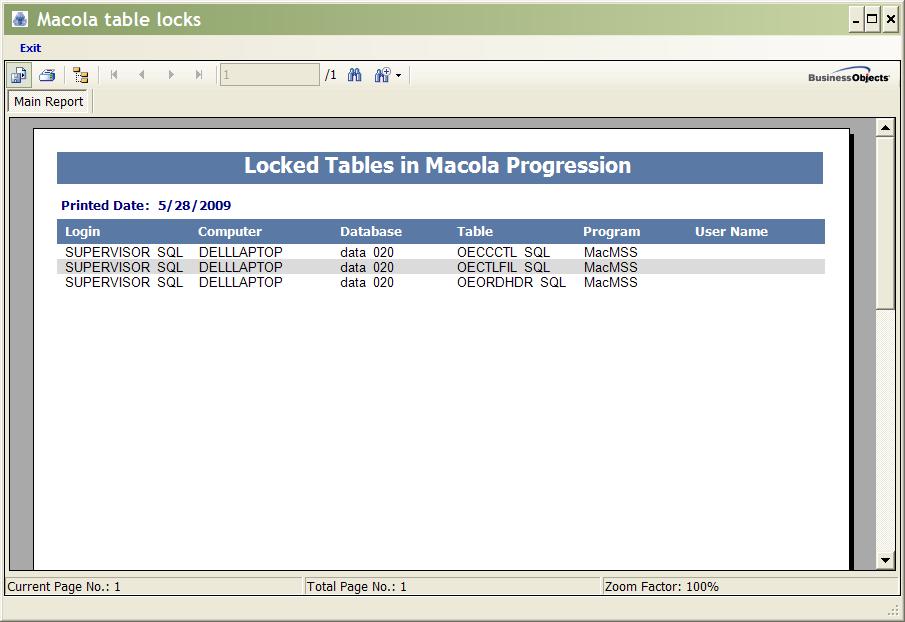 ● Flexibility Projects Listing
Easily see and Manage your Flexibility Projects: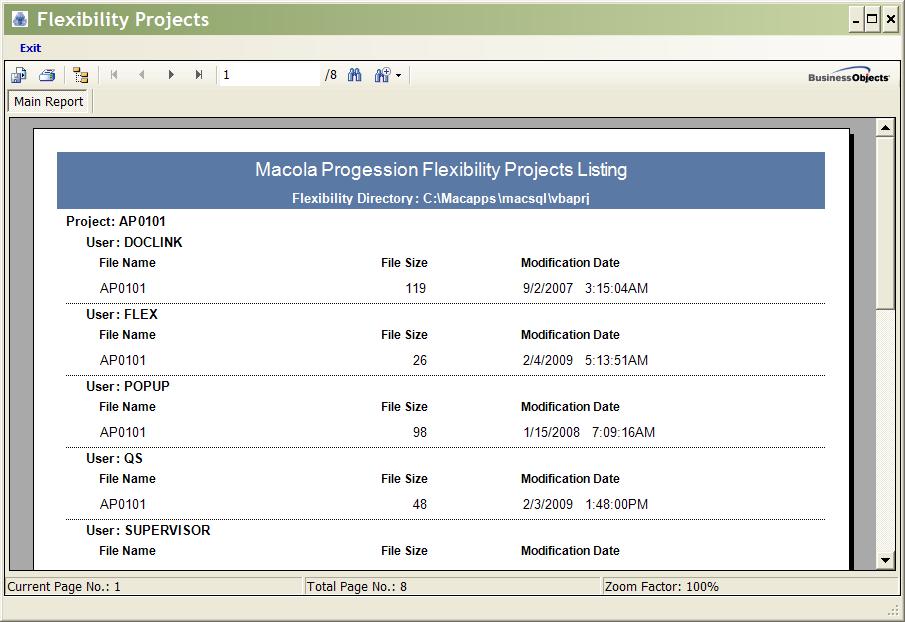 ● Macola DRMs - Developer's Resource Manuals
The Macola Progression DRM's are normally only installed if you own the Flexibility Module, and even then only if you are the Developer.

The Macola DRM's contain a complete listing of table and field names, data types, and sizes. They also include a listing of all Macola screensets and programs as well as documentation of what tables are read, updated or written to during each business process.

This is an invaluable tool for people who write Crystal Reports as well as developers who use Flexibility, Visual Basic, .NET or any other development tool.

● Macola Password listing (Crystal Report)
This report lists all users and their passwords. This is a custom report that is not found in the standard Progression software. Again this is not offered anywhere in Macola's standard reports. Please review the sample below: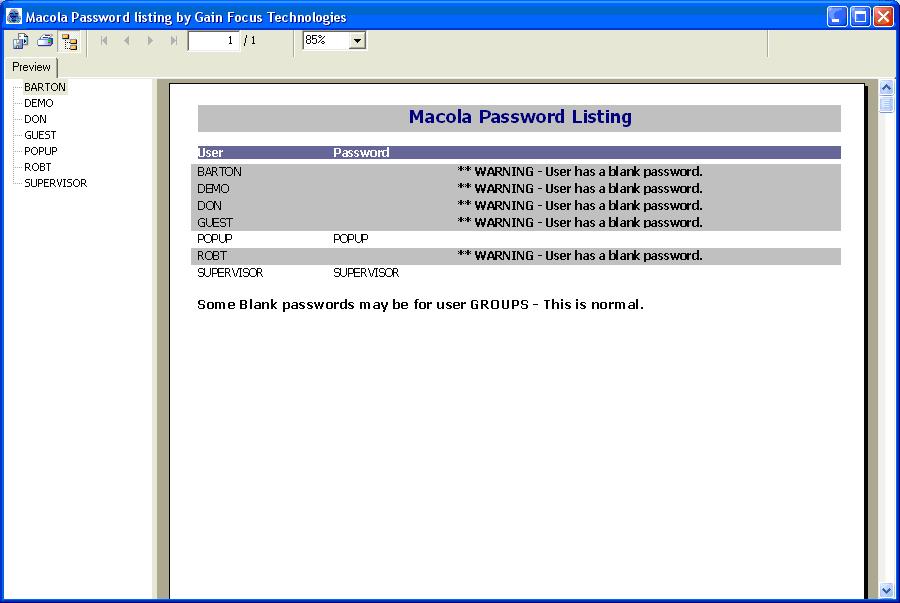 Our IT Manager's Toolbox is available for Macola Progression customers that are using the Microsoft SQL. It is not available for Pervasive/Btrieve users.
Pricing: $2,000 for the entire package.