CRYSTAL REPORTS "HOUSEKEEPING" BUNDLE FOR MACOLA PROGRESSION, MACOLA ES OR MACOLA 10
• Items with no Standard Cost • Items without a Buyer Planner Assigned
• Purchased Items without a Primary Vendor • Items without a P&IC Code
• Items without an Order Policy Code • Manufactured Items without a Routing
• Manufactured Items without a Bill of Material • Negative Quantity on Hand Report
• Obsolete Inventory on Hand Report • Order Policy "P" Items with a Planning Period
• POP Items without Value Added Costs • Purchased Items without a PO Lead Time
• Aged Open Purchase Orders w/Date Prompt • Aged Open Shop Floor Orders w/Date Prompt
• Aged Open Sales Orders w/Date Prompt • Aged Open Production Orders w/Date Prompt
• Orphaned Items – aka Purchased Items not assigned to a Parent Item
• Master Scheduled Items without a Consume Forecast Method
• Serial/Lot Items with Serial/Lot Quantity on Hand Not Equal to the Item Quantity on Hand
• Bin Controlled Items with Bin Qty on Hand Not Equal to the Item Quantity on Hand.
All this just $1,000.00
Also available as an Event Manager Event Pack just $1,500
Also Available as Wisys Process Grids just $2,000
Update PO Line Items:
This was written to help a customer clean up their Received Not Invoiced report. While this can be dangerous if used improperly, it is a quick and easy way to make PO Line items fully vouchered, hence cleaning up the report. Price: $1,000
Since a picture is worth a thousand words, here is a screenshot: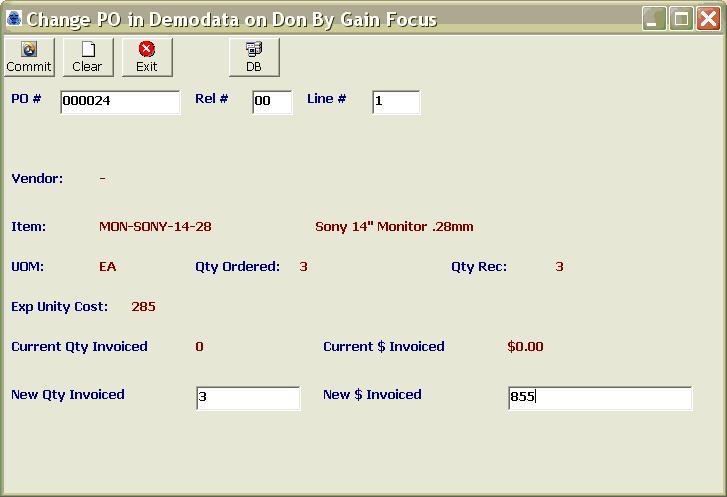 Your Application?
If you have an application you would like developed, please let us know. As Macola Developers, we NEVER modify source code, leaving you free to update your Exact products without fear of something breaking. We can usually give you a not-to-exceed quote on your customization. Please contact us if we can be of assistance.